Staff
``Staff are readily available to talk to. They know my child well and are on top of any issue that may arise. We have always felt welcomed and my daughter has loved every minute.``
Mudgee Community Preschool delivers such a high quality program because we have more, and better qualified staff than regulations require (each class is staffed by a University trained teacher and two TAFE trained educators), and also because we ensure that time is set aside for professional development, collaboration, planning and reflection.
With a combined 300 years of experience at Mudgee Preschool, our 24 staff are dedicated and loyal. They are employed for their qualifications and experience, but also their temperament and personality, to help create a warm and inviting learning environment.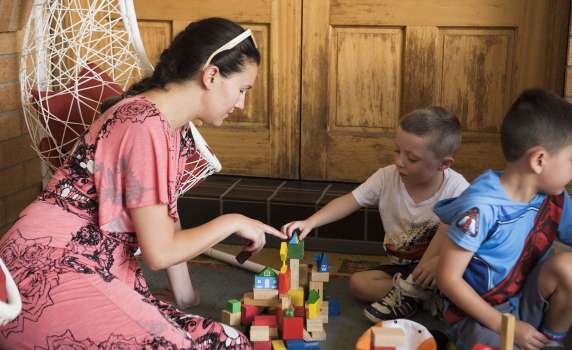 The Director:
is the Nominated Supervisor and Educational Leader of Mudgee Preschool with specific responsibilities to ensure compliance with the Education and Care Services National Law and Regulations
reports to the Board of Management
is in a non-teaching, full-time leadership and management position responsible for delivering the educational program in accordance with the Early Years Learning Framework and ensuring appropriate supervision, support and guidance is available to all staff
is responsible for the safety and supervision of the children
works in partnership with the staff, Board and families to achieve the Preschool's mission and vision to provide an excellent educational and care program
Rosie has been working at Mudgee Preschool for over 25 years, 7 of those as Director.  Her two daughters, born in Mudgee, also attended Mudgee Preschool.  Rosie grew up and started her teaching career in South Africa during the apartheid era and this has led to her commitment to social justice issues.
Other than her interest in early childhood matters, Rosie enjoys long distance jogging, gardening and travelling to see her family who live in England and South Africa.
(Bachelor of Arts, Higher Diploma in Pre-Primary Education, Master of Early Childhood Education, Advanced Diploma in Community Sector Management)
The Assistant Director:
is based at the South Mudgee Campus.
assists the Director with the management and leadership of the preschool and to ensure compliance with the Education and Care Services National Law and Regulations at the South Mudgee Campus
reports to the Director
is a part-time role combined with a teaching position
Kate started her teaching career at Mudgee Preschool and has been with us for 13 years.  She has a special interest in the environment and sustainability and in supporting children to become environmentally responsible.
(Bachelor of Teaching, Early Childhood)
The Administration Officer:
is based at the Lovejoy Street campus.
works with the Director to deal with administration and financial matters eg. the collection of fees,  paying accounts, wages and budget preparation.
coordinates registrations and enrolments throughout the year.
Gretha has been the first point of contact for thousands of families since she started working at the Preschool in 1989.   Apart from her administrative skills Gretha is also a qualified massage therapist which is very helpful to other staff!  Gretha lives on a property with husband Ole, where she grows her own fruit and vegetables and tends to a beautiful garden.
The required staff to child ratio is one adult per ten children. At Mudgee Preschool the staff to child ratio is 3 adults per twenty children, 50% over the regulation requirements.
The additional educators are employed to support the inclusion and participation of all children.
Our staff enjoy being  able to catch up with parents and carers so that we can share information about each child.  The class teacher or one of the educators are always available to families and carers at drop off from 8.00 or pick up before 3.30 or at any other time by arrangement.  Appointments should be made if there are matters of a confidential nature to be discussed.
The Teachers:
lead the team of educators in each class of 20 children
all have university qualifications in early childhood education
are responsible for the educational curriculum and program for the children in the class
work closely with the other educators as well as the families of the children to develop, implement and evaluate the program
The Educators:
each class is supported by an Educator and an Inclusion Support Educator.
all educators have a TAFE qualification in Children's Services (Cert III or Diploma)